We are not taking pre-orders yet.
We will have very limited units available for pre-order at a special price before its retail launch.
Extremely Fast Gigabit WiFi.
Easy Home Automation.
Exquisitely Designed.
Easily automate your home with our Gigabit WiFi Router.
Blazing Fast Dual-Band WiFi.
With the latest wireless ac technology, Almond+ is up to 4 times faster than your typical Wireless N Router.
It has enough power to cover a 5,000 square foot home.
Its dual band coverage is perfect for on-line gaming and simultaneous HD video streams.
Powerful Smarthome Hub.
Almond+ can bring convenience & peace of mind to your day to day life.
Using Almond+'s smartphone app, you can set your home thermostat before you leave the office. You can control the lights and ensure your home's security. The possibilities are endless.
We've chosen ZigBee and Z-Wave so that right out of the box Almond+ supports hundreds of existing sensors in the market.
Unbelievable Price.
It costs over $500 to put together a system as capable as Almond+. But that system will comprise of several boxes with an unwieldy criss crossing of wires. Not only would that be messy but the integration process itself is headache inducing for most consumers.
Forget about the touchscreen, forget about home automation and forget about 802.11ac. You can't find a decent dual-band wireless N router for $99 today.
Do more with less.
Future Proof Specifications.
It's very likely that the next generation computing devices such as iPhone 6, Galaxy S4, iPad 5, etc. will support the faster 802.11ac WiFi.
With Almond+ you will be fully equipped to enjoy the faster speeds that come with these devices. Below are the other key specs.
What is 802.11ac?
802.11ac is the latest WiFi standard that provides Gigabit Wireless speeds for the first time. It is also referred to as fifth-generation, 5G WiFi. Its about 4x faster than the current 802.11n standard.
It's 100% backwards compatible with older 11a/b/g/n devices.All your existing WiFi enabled devices will still work with Almond+
Exquisite Design.
Almond+ maintains an extremely small footprint inspite of its advanced capabilities.
With detachable stand and innovative recessed downward facing ports, Almond+ is designed to be both table and wall mountable.
No matter how you place it, you can hide those annoying cables thanks to its innovative recessed connectors.
Fun Colors.
And to top it all, we will have 4 exclusive colors just for Kickstarter backers – White, Blue, Green & Red.
Securifi isn't your average Kickstarter outfit. It already has one Almond wireless touchscreen router under its belt, currently sold at Amazon, and now its about to bid for crowdfunding to build a sequel: the Almond+
The Almond, a router with a small touch screen that achieved significant success on Amazon thanks to a decent price point and excellent reviews, has a successor from parent company Securifi hitting Kickstarter soon.
The new router supports the 802.11AC wireless standard, which offers theoretical speeds of more than 1.1 gigabits, as well as gigabit ethernet. That's about three times the wireless speed of the old Almond router.
Securifi, the company that delivered the world's first touch-screen router, Almond, today unveiled Almond+, a color touch-screen router with an integrated Smart Home hub
DIY home automation systems were everywhere at CES 2013 but none was more compelling than the new Almond+ from Securifi. Securifi started life with the Almond wireless 802.11n router, featuring a small built-in touchscreen for diagnostics and feedback – a handy little product, given the difficulty that most consumers have configuring and troubleshooting routers via the PC.
[CES 2013] Securifi, the folks behind the world's first wireless router with a built-in touchscreen, will be showchasing its latest breakthrough at CES 2013 – the Almond+ 802.11ac Wireless Smart Router. Capable of speeds of up to 1,167Mbps, the Almond+ is also a SmartHome hub integrated with Zigbee and Z-Wave technologies.
802.11ac Touchscreen WiFi Router + Smart home Hub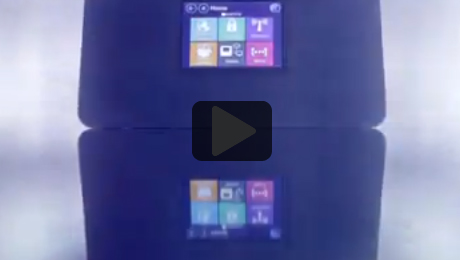 Almond+ Philips Hue All Colors Demo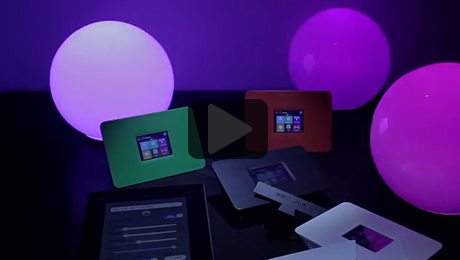 Almond+ Philips Hue RGB Demo
See Almond+ Demo at CES 2013